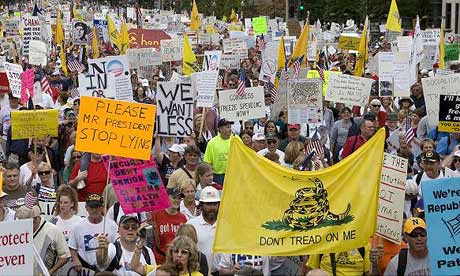 Have you heard?  There was a massive earthquake in the state of Texas on July 31st. From out of nowhere, a grassroots candidate, who had been polling at 2% when he entered GOP nomination battle for U.S. Senate, emerged as a winner with a 13-point margin of victory over the establishment-backed candidate. Considering that this grassroots candidate was outspent more than 2 to 1 by his wealthy opponent , and considering his opponent's name I.D. was higher than just about any other politician in Texas (except for, perhaps, Gov. Rick Perry), the victory was nothing short of a stunning defeat for those political operatives inside the Texas GOP machine.  I am referring, of course, to Ted Cruz's victory over Lt. Gov. David Dewhurst in the July 31st runoff.
What we are seeing in the GOP is an unwillingness by those in leadership to embrace conservative grassroots candidates. The trend is for the power-brokers inside the D.C. beltway and within state party leadership to steer clear of these 'controversial' grassroots candidates for fear of driving moderates and independents away on election day. This argument is of course repeated and reinforced by the liberal mainstream media as they label tea party activists as haters, intolerant and crazy. The same argument was used against Ronald Reagan during his ascent to power. In fact, I can't recall an election cycle in my lifetime where the media and those in GOP party leadership have not employed this tactic of painting grassroots conservatives as extremists and offensive.
I'm here to tell you, it's all a lie.
The victory of Ted Cruz in Texas should be a testament to the popularity of grassroots conservative candidates. This grassroots insurgency is also evident with the victory of Richard Mourdock over establishment Dick Luger, and Deb Fischer's victory in Nebraska. Ronald Reagan, of course, is the best example in history of how and why grassroots conservatism wins, but it seems those in GOP leadership completely dismiss Reagan's landslide victories as an anomaly .. or do they?
This lack of support for grassroots conservatives by GOP leadership isn't about 'extremist' or 'offensive' views, and it isn't even about 'elect-ability', and the real issue these party bosses have with the grassroots isn't even being talked about publicly by most of those in conservative media circles or inside GOP party leadership.  So what is their problem with us?  It's simple …they fear us.
This fear that the establishment has of grassroots conservatives is not about ideology or specific policies. Grassroots conservatives are no longer taking marching orders from the establishment, as has so often been the case in the past. This inability to control the grassroots is what has GOP leadership terrified. Establishment candidates are being systematically picking off one by one. It is becoming more clear, either the grassroots will take over the leadership of the GOP, or the GOP will cease to exist as a viable party. The game, as it's been played in the past, is about to end.
Grassroots conservatives are no longer going to sit back and wait for GOP party leadership to set the agenda. We are speaking out, stepping up and getting behind conservative candidates with the loudest voices and strongest convictions. We want leaders who are unapologetic in their devotion to conservative principles. Now the tables are turned…  Hey establishment!  We're just not that into you.